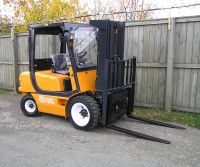 Forklifts are a frequently used and essential piece of equipment on many sites. Being aware of how to operate them safely can save a company money by preventing unnecessary accidents, not to mention potentially saving lives. That is why here at Commander Handling we have come up with our simple top tips to prevent a forklift accident.
Don't load beyond capacity
If you load your truck beyond its graded weight capacity, it could cause it to become top heavy and immediately tip. Take care to place a weight-bearing load as far back on the truck as possible for extra stability.
Don't hitch a ride
Unless a truck is specifically designed to hold more than one operator, don't let other people onto the forklift, even if just for a short trip.
Slow and steady wins the race
As the steering, unlike cars, is at the rear of the vehicle, the forklift will swing in a wide arc at any turn. It is important that the operator turns and stops smoothly without any sudden jerking actions, as any quick movements when operating a forklift may throw the truck off balance and cause it to tip.
Wear a seatbelt
Wearing a seatbelt will prevent the operator from being thrown from the forklift in the event of the vehicle tipping over. Instead they will be protected by the sturdy frame of the forklift.
Watch out
Be vigilant at all times when operating a forklift, watch for any potential obstructions or pedestrians that may cross your path. Pay particular attention to where you place your hands and feet, the several gears and wheels that could be exposed on the truck can catch if the driver is not careful.
Commander Handling supply specialist material handling systems to businesses nationwide, if you have any inquires don't hesitate to get in touch with the team on 01924 827400.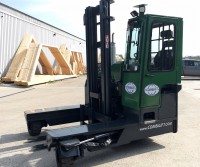 Despite the summer holidays, we have been busy at Commander Handling providing a number of different handling equipment solutions across the U.K.
During the month, we have delivered a Combilift and a Commander C50 SL, on a fully maintained contract hire agreement, to a shed manufacturer in York.
Furthermore, we have supplied a Commander C40 SA with a comprehensive full maintenance and service agreement to a Manchester based builder's merchants after the client contacted Commander Handling with requirements to increase their Manchester site storage capacity.
Should you be interested in a Commander sideloader or a Combilift, please do not hesitate to get in contact with Commander Handling. From our base in Yorkshire we can provide a number of handling equipment solutions across the UK.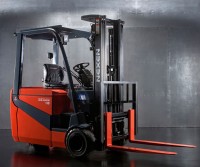 Commander Handling is pleased to announce that along with an order for two C50SL sideloaders for a client in the North East, the team also secured orders for two Nexen counter balances and three other sideloaders in the month of August.
The two fully rebuilt Commander C50 SL sideloaders are for a timber company whilst the two brand new Nexen counter balances have been ordered by a Derby-based structural building manufacturer and will be supplied on a fully maintained contract hire agreement.
As well as this, we have received an order from an existing client in the concrete manufacturing industry for an eight-ton Commander C80SL and two Commander C65SL, 6500kgs capacity sideloaders, to a street light manufacturer.
If you are interested in a Commander sideloader or counter balance for your business, please do not hesitate to contact us today.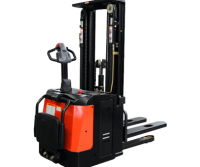 What sort of forklift training should you provide new staff to ensure a safe and efficient working environment? It is said that that warehouse or distribution centre operations are only as safe and productive as their operators, therefore knowing your staff are fully trained and competent to operate a forklift is a must.
Here at Commander Handling we pride ourselves on having an in-depth knowledge of the material handling industry and have outlined some steps your company can take to ensure you offer effective training to your employees.
Trainer Credentials
Ensure your staff are trained by accredited and experienced professionals, if you are bringing in an outside firm make sure the trainer is qualified both through experience and on paper.
Site specific
Conditions between one site and another can vary dramatically, make sure the forklift training is tailored to your company's specific needs. Make sure you liaise with the trainer to go over your site's potential issues, obstacles and unique operations to include within the training programme.
Allow time for thorough training
Ensure the programme of training is thorough. Provide time for classroom instructions as well as hands-on training on the specific class of truck your employees will be working on. Not only do staff require training on actual forklift operation, but an effective training programme also covers safety information and "off the truck" activities, such as pre-shift inspections and safe battery handling.
Train all staff
In a busy distribution centre or warehouse, it is not only the forklift truck operators who require training to ensure the safety of the site. Staff working around the vehicles face hazards too and providing specific training to them also can reduce the risk of accidents and pedestrian injuries.
Commander Handling supply a wide range of forklifts and sideloaders to businesses across the UK from our Yorkshire base, to find out more about the services we provide do not hesitate to get in touch with the team or click right here.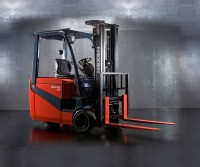 Before forklifts were around, it was common in factories to lift and move loads by rope and cables. Looking back on this now, it's quite clear that this was extremely dangerous. So even though forklifts have increased the safety in warehouses and factories, there are still many dangers when it comes to handling a forklift.
Must Be Qualified
The main and most obvious point would be that the operator must be qualified. It's important the workers expected to operate this vehicle have had the training. Even though they may look simple, they are definitely not. Operating a forklift without the right training could cause serious damage to the operator and other workers in the warehouse.
Appropriate Clothing
It's an essential that the operators wear the appropriate clothing. Usually consisting of a helmet/hat, appropriate footwear (boots are the most common) and hi-visibility jackets. They also must be fitted well as any loose clothing could get caught on machinery and cause injury.
Regular Checks
It's important to have regular checks on all forklifts, especially before driving them. If there is anything wrong with the forklift it can cause injury to the operator or others if not checked first. The main things to check would be the brakes, steering, controls, warning sensors and tyres.
Be Aware Of Surroundings
Observing your surroundings before using a forklift is an important factor when it comes to making the work place safer. Make sure other workers are out of the way before using the forklift as well as objects that could interfere.
There are many safety guidelines when it comes to operating a forklift safely but these are the main few. As long as you stick to these, you can be sure to be safe when operating your forklift.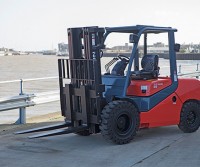 Forklifts are a vital part of the day-to-day operations of many businesses, which is why it is crucial that they receive regular maintenance to ensure the workplace continues to operate safely and smoothly. As Forklift truck specialists, here at Commander Handling we have outlined some simple checks that when done daily, alongside regular services, can ensure a well-maintained forklift and even expand the lifespan of the truck:
• Firstly, at the beginning of a shift, you should check for any immediate signs of visible damage or leaks on the forklift.
• Pay attention to gauges and lights found on the instrument panel of the forklift that give an indication when a part is malfunctioning, by quickly taking care of any minor faults you can avoid more expensive repairs.
• Check the air pressure of your tyres is correct daily to ensure the safety of the vehicle. If the tyres are solid rubber ones, make sure there are no gashes present.
• The operator should then check the operation of the forks, chains, anchor points and mast.
• Depending on how often the forklift is used, daily checks of various fluid levels such as transmission and hydraulic fluids, coolants and motor oil may be necessary to keep the forklift running efficiently.
• Keep all moving parts of the forklift lubricated to avoid the harmful effects of friction.
Here at Commander Handling we have developed our mechanical repair capabilities to cover a range of equipment, including any type or make of forklifts. Utilising our modern fleet of vehicles and fully trained technicians Commander Handling is able to provide an efficient national service to our entire customer base.
For more information of the service and repair provision we provide, get in touch with the team.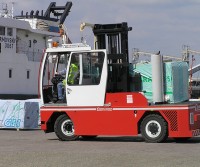 Sideloaders, as the name suggests, transport long loads longitudinally along the length of the machines chassis as opposed to balancing the load transversely across the forks on a counter balance lift truck, allowing for a more stable and efficient move.
Commander Handling is recongnised as a leading supplier of the Commander and Baumann Sideloader range which offers a variety of sideloading trucks to handle long and bulky goods. With over 60 years' experience in the development, design and production of Sideloaders, Commander is recognised as the leading supplier.
Firstly all sideloaders are designed with tight turning circles, unique manoeuvrability and superior carrying methods which are not possible with a counter balance fork lift truck, resulting in an increase in the overall storage capacity of your site. Sideloaders are designed to work in narrower aisles and doorways ideal for safe use in busy warehouses or stock yards.
To find out more about the range of Sideloaders Commander Handling provide, get in touch with the team, or click here.
Mobicon Mini Straddle Carriers are a cost effective solution to container handling and lorry loading. With a S.W.L of 35,000kg's a Mobicon's capabilities are endless, it's not just for containers it can also fully load a Lorry in less than 5 minutes. with a Mobicon loads can be secured on the ground increasing the safety and efficiency of your staff and then lifted in one swift movement. Imagine loading a full lorry in 5 minutes! Remember Mobicon IS THE ONLY mini straddle carrier on the market that will not damage the average yard!
For more information about out Mobicon range, please click here.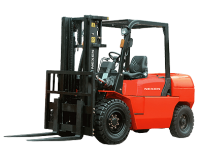 Forklifts are very useful for workplaces such as factories and warehouses where there is a lot of moving and lifting loads. They are pretty much an essential. There are many reasons as to why a forklift is beneficial and here are some of them:
Lifting and Loading
These machines are small allowing them to be easier to use and meaning they are able to get into tight and narrow areas. They are capable of lifting a variety of different loads making your job that little bit easier.
Variety
There's a large range when it comes to forklifts that you can choose from. It all really depends on the workplace and the kind of lifts the forklifts will be doing. Different forklifts can carry different amounts of weight. Some have the capacity of over 5000kg. There are also different models. You can choose between electric, gasoline, diesel or propane-powered. If you are uncertain on which one to pick, it would may be beneficial to ask an expert to make sure you get the right one for you.
Maintenance
Regular maintenance checks allow your forklift to live a long healthy life. It's important to keep this machine in a good working condition. That's why most forklift manufacturers provide a full maintenance and preventive maintenance plan making sure that your forklift will run a healthy life and last for a good amount of time.
Safety
For most warehouses it's probably hard to even imagine not having a forklift, but it did happen. Workers were using materials such as rope, and cables for moving and lifting loads. As you can imagine, using these materials for lifting and moving was of course not safe and probably caused many injuries. Forklifts today are a big improvement and are a lot safer.
If you do decide on getting a forklift, it is important to look at the variety and see which best suits your needs. It's also vital to have the proper training before using a forklift. Although they are a lot safer than using rope and cables for lifting and moving, they can still be dangerous if used without the right training.
For more information or to buy a forklift, please contact Commander Handling on 01924 827400 or visit our forklift page here.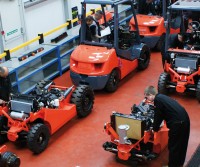 Commander Handling are in the process of recruiting an experienced forklift fleet engineer in the Midlands. The job is a work from home on a call out basis role and a vehicle will provided to help you get to our clients in the area. The job has come about after Commander Handling has won more new clients in the Leicester area, meaning the fleet in the midlands is growing day on day.
If you are interested or know someone who might be interested, please get them to contact Matthew Platts on [email protected] or call 01924 827400.