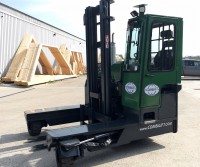 The first few months of 2016 have been very busy for Commander Handling with lots of rebuilds and new deliveries of handling equipment across the UK.
Below is a breakdown of some of the works we have been completing during the past few months:
Commander Handling Ltd replaces a well-used 12-year-old Commander C50 SL with a fresh fully rebuilt Commander C50 SL for at least 10 more years of reliable service! (Jan 2016)
We have delivered a fresh fully rebuilt CombiLift C4000 to a North Yorkshire based timber company, that should assist with their handling requirements for a long time. (Jan 2016)
Commander Handling Ltd successfully delivers another 2 fully rebuilt Commander C65 SL for a long standing customer in New Holland. (April 2016)
The team delivers the final of 4 fully rebuilt Sideloaders to a Leicester based Timber company. The machines supplied complete with a fully comprehensive 60-month service & maintenance agreement. (February 2016)
Commander Handling Ltd successfully delivers another new Baumann HX50 Sideloader to a new customer in Cornwall. We also deliver a fully rebuilt Commander C40 SA Sideloader to our new customer in Cornwall.
If you would like to know more information about the company, any of the products we offer, or require any assistance with a new or refurbed machine, please do not hesitate to get in touch with our team. We are able to offer Nexen and Baumann handling equipment across the UK, providing some of the newest models on the market.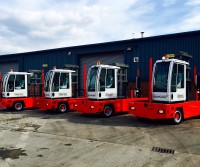 Commander Handling Ltd has recently completed a large single order of sideloaders after being commissioned to deliver seven to a Leicester based company in April 2016.
After speaking to the client and understanding their requirements, it was agreed that all seven sideloaders needed to be brand new Baumann HX50 sideloaders, recognised as being one of the top compact products on the market.
Baumann sideloaders are synonymous for having powerful engines and responsive handling, making them great for many different situations, and easy to control in busy environments (such as warehouses or stock rooms). The HX50 is compact and has a 3-5 tonne load capacity, the smallest in their range, ideal for the client.
Thanks to the great work of the Commander Handling team in Yorkshire, the total delivery was completed ahead of schedule much to the delight of the client who was able to start using his new sideloaders straight away and increase his productivity. The sideloaders were delivered in three installments across the month at the request of the client.
This is just one example where Commander Handling look to work closely with the client to ensure they get the machine most suited for their specific needs.
Commander Handling are able to provide a wide range of different plant machinery including side loaders and have over 70 years' experience in the industry. If you are based in Yorkshire or further afield and require any assistance, please do not hesitate to contact one of our team. Our range of other products include: forklifts, stackers and much more.