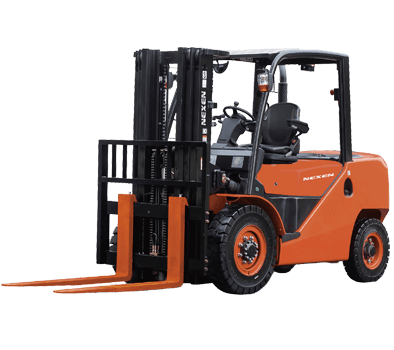 Range: Nexen LIBERO Fork Lift
Capacities: 1500 – 7000KG
Fuel: Diesel
Nexen's FDL50-FDL70 diesel counter-balanced forklifts offer quick and easy forklift servicing & maintenance.
For additional information on all X-Range fork lift trucks please contact us.
Overview
Our Libero FDL50-FDL70 series forklift are combined with both durability and ergonomics, providing productivity rivaling other leading forklifts and maintaining comfort for hours of tireless operation. Add friendliness to the environment, simple servicing, efficiency on the job, high standards of safety- its the perfect tool for even the most demanding of applications.
2.0-5.0m duplex mast
2.5-5.0m full free duplex mast
4.3-6.5m triplex mast
Special carriage and backrest
Other dimension forks
Dual drive wheel with fender
Solid tyres     Sideshifter
Non-marking tyre (White/Green)
Cabin     Other Attachment
Heater and Air Condition
Semi/Full suspension seat
Rear working light
Auxiliary hydraulic value modules
High mounted exhaust system
Middle mounted exhaust system
Spark Arrester
Purified exhaust system
Radiator screen
Intergrated sideshifter
Fire extinguisher
Dual/Special air cleaner