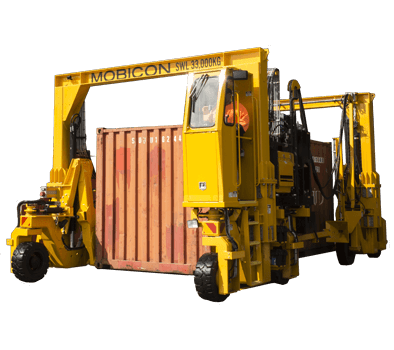 Range: Mobicon Two Tower Straddle Carrier
Capacities: 35 tonne SWL
Fuel: Diesel
The machine is of a two tower design and uses the container as a structural component when lifting a load. The result is a 35 tonne capacity, flexible container handler that can lift any form of ISO container from 20' to 52', flat racks and over-heights included.
Suitable for 20′, 40′ (and longer) containers, bolsters (flat racks)
Outstanding Features
Can bring containers inside buildings  and under low awnings.
Extreme low wheel weights
The Mobicon Two Tower (original model) is a patented two-tower Gantry Crane or Mini-Straddle Carrier of unique design. When no container is being carried, the two towers are connected by draw-bars.  When a container is handled, the rear tower carries the rear of the container, and the front tower carries the front of the container.  The container then becomes part of the Straddle Carrier structure.
As the Two Tower attaches itself in the side holes of the container corner castings, it can handle all types of containers, including flatbeds, bolsters and half high containers and tank containers.
The Two Tower can also transport containers inside a building or under an awning, as it is only 4 meters high when carrying a container.  It can also load containers on road vehicles, as the lift-height is 1.7 meters.
NB. The above specifications are subject to change, without notice