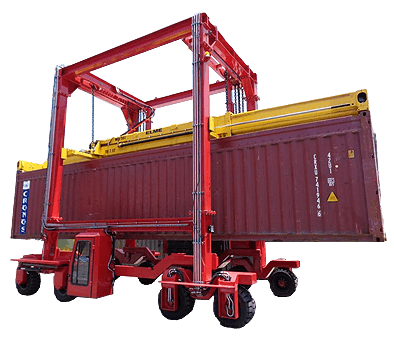 Range: Mobicon ECO Top Lift Two High Straddle Carrier
Capacities: 35 tonne SWL
Fuel: Diesel
Mobicon ECO Top Lift Two High
Suitable for 20′, 40′ (and longer) containers.
Outstanding features:
Extreme low wheel weights
Operator does not have to leave the cabin to hook up
ELME spreader
Small turning circle
Faster turnaround times
Can stack one over one (two high) high cube containers
The third Mini-Straddle Carrier model in the ECO series (patent applied for) has a top spreader that can stack containers one over one (or two high). This is the ECO Top Lift Two High. Mobicon has in the past received quite a few requests for a stacking Mini Straddle Carrier in the range.  The ECO Top Lift Two High Straddle Carrier Models are perfect for companies that require speed in their operation and where yard conditions may not allow the operator to exit the cabin. When space is at a premium the ECO Top Lift Two High Straddle Carrier can again increase efficiencies.