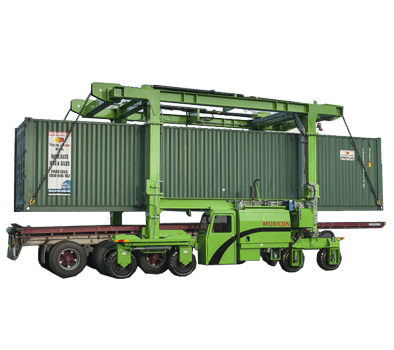 Range: Mobicon ECO Bottom Lift Straddle Carrier
Capacities: 35 tonne SWL
Fuel: Diesel
The ECO Bottom Lift Mobicon (patents applied for) is aimed at a market looking for even more savings than are provided currently when compared with traditional Forklifts.
Suitable for 20′, 40′ (and longer) containers.
Outstanding Features
Extreme low wheel weights
Easy to get into and out of the cabin
most economical of the Mobicon range
Small turning circle
The first model released in the ECO Series (patents applied for) is the ECO Bottom Lift. It uses chains, and hooks are connected to the bottom corner castings of the container to move it. The top of the chains are positioned at 30 feet, and this Straddle Carrier can handle both 20′ and 40′ containers. This configuration is simple, and the ECO Bottom Lift comes in at a lower price point when compared to the Top Frame Model.
Each corner of the ECO has a load-sharing bogey. The front 4 wheels are steered, and the 4 rear wheels are driven
NB. The above specifications are subject to change, without notice